Bengals 2022 mock offseason: Predicting free agency and the draft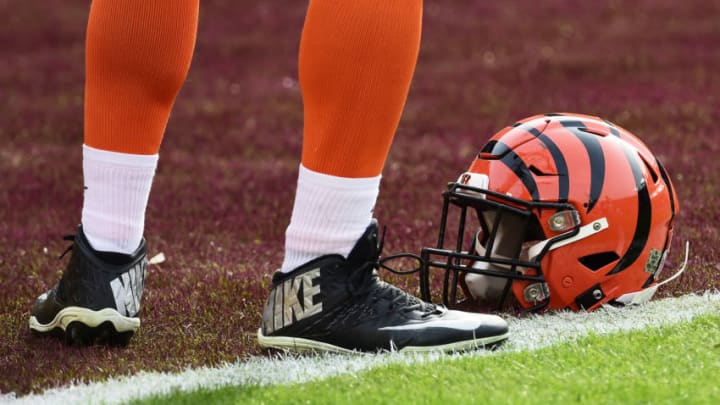 Cincinnati Bengals (Photo by Patrick McDermott/Getty Images) /
C.J. Uzomah, Cincinnati Bengals (Photo by Kevin C. Cox/Getty Images) /
Re-Signings
C.J. Uzomah – 3 years, $30M
As the heart and soul of the team in 2021, retaining tight end C.J. Uzomah will be one of the Bengals' top goals in free agency.
In all honesty, Uzomah is fairly replaceable in terms of on-field production, but what he brings to the Bengals' locker room is anything but replaceable. With Cincinnati's elite wide receiver trio, Joe Burrow does not need an elite receiving tight end, but Uzomah serves as an ideal No. 4 option for the franchise quarterback.
Ten million bucks a year may sound a bit reach for the veteran tight end, and it probably is a bit of an overpay, but it may be what the tight end market demands in this free agency period. The group of available tight ends is pretty limited in free agency, so Uzomah's price will likely reflect that.
It's possible that he would give the Bengals' a discount, as he likely wants to stay, but let's just assume he doesn't. The stripes will likely pay him, discount or not.
B.J. Hill – 3 years, $24M
Cincinnati has a decision to make — Defensive tackles B.J. Hill and Larry Ogunjobi are both hitting free agency after having solid seasons. Losing one would hurt, but losing both would give the Bengals' defense a glaring hole for offenses to attack. The front office will surely try to retain both Hill and Ogunjobi, but their contract demands will likely eliminate that option so, they'll have to choose one to retain.
This decision will likely come down to who asks for less, which gives Hill the edge. Ogunjobi had more name recognition going into the season and racked up more sacks than Hill, so my gut tells me he will be more expensive.
This could actually work in the Bengals' favor though, as Hill is the better player of the two. Due to a thin defensive tackle market in free agency and an even weaker draft class at the position, Hill will probably demand a yearly pay of somewhere in the $8 million range, which the Bengals should be willing to give him.
Quinton Spain – 2 years, $6M
Quinton Spain's fate with the Bengals is hard to predict. He played fairly well for most of the 2021 season and was one of the few bright spots on the offensive line at times. However, his play declined as the season went on and he was the player who gave up the Super Bowl-losing pressure to Aaron Donald, so he may be in a weird spot with the front office.
The Bengals are almost certainly going to give Jackson Carman a chance to start in 2022 and they appear to be interested in acquiring an outside free agent at the guard position, so Spain may not be brought back. However, if he doesn't draw much interest in free agency, he could be brought back as a solid veteran to compete with Carman for a starting spot.
Eli Apple – 1 year, $3.5M
As the 2021 season went on, Eli Apple became something of a villain to the rest of the NFL world. However, for Bengals fans, Apple was something of a pleasant success story.
After starting the season as the scapegoat for all of the team's defensive struggles, the former Buckeye cornerback performed admirably as the season went on. While he did give up the game-losing touchdown in the Super Bowl, he likely earned another year in Cincinnati as an expensive depth piece.
Clark Harris – 1 year, $1M
The biggest move the Bengals will make in this free agency period is bringing back long snapper Clark Harris. Just kidding.
However, Harris is a fan favorite who does not appear interested in retiring, and Cincy would have no reason to let him walk. This is an easy move to predict, Harris will come back for a final year, before retiring next offseason.