3 bargain free agent offensive linemen for Bengals to target in 2022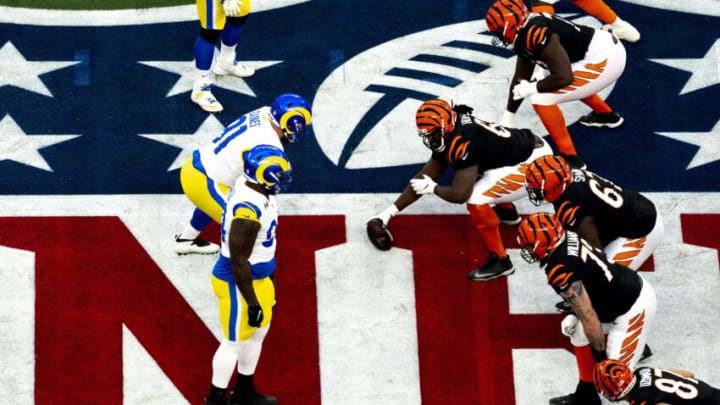 Cincinnati Bengals center Trey Hopkins - Mandatory Credit: Albert Cesare-USA TODAY Sports /
Cincinnati Bengals (Photo by Andy Lyons/Getty Images) /
It seems like the Cincinnati Bengals' season just ended, and in fact for the two teams lucky and good enough to advance to the Super Bowl, it actually just did.
The combine has come and gone, cap cuts are coming fast and furious, and there have even been several big-time trades.
The addition of Russell Wilson to a Denver team that was essentially only missing a quarterback makes a strong AFC already more daunting as the Bengals seek to run it back for a trip to Arizona and another Super Bowl.
So, not only is March an exciting month for hardcore football fans, but also a vitally important one if the home team is to in fact run it back for another Super Bowl.
Unlike most seasons the past several years, Cincinnati doesn't have a plethora of holes to fill. Zac Taylor and company boast a young, talented roster that is mostly affordable and still under contract.
The championship window in the Queen City is wide open for the next couple of years, but what do the Bengals need to do to squeeze through and hoist the Lombardi?
While 2021 was a roller coaster ride that is only rivaled by a certain theme park a few miles north of the city, how does the team break through? Well, since you are reading, I'll tell you.
Here are three BARGAIN free agents that could take this offensive line from offensive to amazing. These won't be the typical names like Ryan Jensen and Terron Armstead but guys who the stripes might not have to break the bank for as much as they would for those top-tier players.