Bengals should still draft a tight end even after Hayden Hurst signing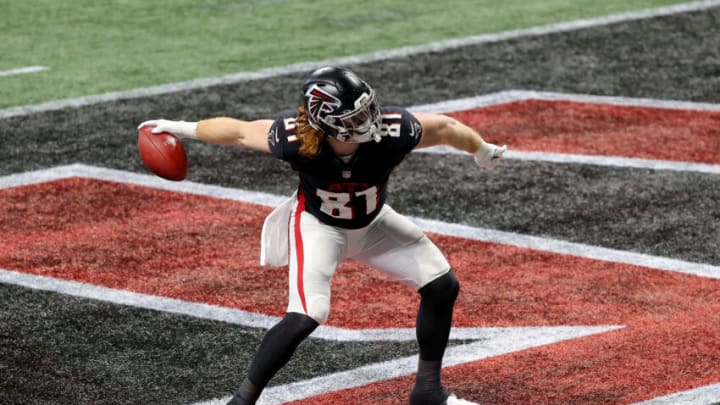 Hayden Hurst (Photo by Kevin C. Cox/Getty Images) /
The Cincinnati Bengals watched as C.J. Uzomah signed with the Jets and they were left without their starting tight end from a season ago. Now they've made a move at the position, signing Hayden Hurst to a one-year deal.
Hurst adds depth to the position, which currently consists of Drew Sample and Thaddeus Moss. It's not an impressive group even with Hurst in the fold and the team should still absolutely look to address the position in the 2022 NFL Draft.
Before we dive more into that, let's discuss Hurst.
The South Carolina product was a first-round pick by the Ravens in the 2018 NFL Draft but was quickly outshined by fellow 2018 draft pick Mark Andrews. As a result, Hurst spent just two seasons with the Ravens before landing with the Falcons in 2020.
Hurst had his best season with the Falcons in 2020, totaling 56 catches for 571 yards and six touchdowns through 16 games and nine starts. He wasn't as much of a factor in Atlanta's offense this past season but Kyle Pitts being the starting tight end probably played a big role in why that was the case.
Bengals need to draft a tight end even after signing Hayden Hurst.
The Hurst signing addresses a position of need for Cincinnati but they're not out of the woods yet when it comes to the tight end position. This team definitely needs to add a tight end in the draft because Hurst isn't the long-term answer. He's only signed to a one-year deal and Sample is also entering the final year of his rookie contract.
It's time for the stripes to find a franchise tight end and the 2022 NFL Draft is the place for them to do just that. I've mentioned Trey McBride and Isaiah Likely as options that I like for this team but Stripe Hype's own Glenn Adams also discussed a few draft options the other day. Any of these guys would be a good option for the Bengals as they look to find their franchise tight end.
\
What do you think of the Hurst signing? Do you agree that the Bengals still need to find a tight end in the draft?